Descrizione:
NT-EPU801 (SFU) è un mini dispositivo terminale GEPON ONU, che si applica all'accesso a banda larga puro. Adotta un design di struttura compatta di tipo mini con alta integrazione e può fornire 1 interfacce GE (RJ45). Supporta la tecnologia della funzione router di livello 3 con PPPOE / DHCP / IP statico, è facile da manutenere e gestire. Può essere applicato all'applicazione di accesso FTTH / FTTP per utenti residenti e aziendali ed è pienamente conforme alle normative tecniche come IEEE802.3ah e requisiti tecnici delle apparecchiature EPON (V3.1).
GPON (Gigabit Passive Optical Network) Questo è lo sviluppo dello standard BPON. GPON supporta tariffe più elevate, maggiore sicurezza e protocolli di livello 2 opzionali (ATM, GEM, Ethernet). A metà del 2008, Fryson Telecom aveva installato 800.000 linee. British Telecom (British Telecom) e American Telephone and Telegraph Company (AT & T) stanno conducendo prove avanzate. Altre società come Independent Fiber Networks Ltd. stanno collaborando con fornitori di servizi come See the Light per fornire connessioni GPON ad alta velocità e fibra a casa.

caratteristica:
Plug and play, funzionalità di rilevamento automatico, configurazione automatica e aggiornamento automatico del firmware, ecc.
Supporta la tripla richiesta di crittografia
Supporta la richiesta del meccanismo di segnalazione DBA
Supporta la funzione di manutenzione della configurazione remota OAM
Supporta l'aggiornamento remoto e il download
Supporto rilevamento stato e segnalazione guasti
Supporto per configurare la modalità di lavoro sulla porta dell'utente.
Supporta la crittografia e la decrittografia dei dati
Supporta VLAN 802.1Q
Supporta ricche funzioni VLAN QinQ e snooping IGMP
Supportare la regola del traffico per modificare la relativa priorità.
Supporta l'indicazione a LED
Supporto per ripristinare le impostazioni di fabbrica
Supporta il ripristino remoto e il riavvio
Sostenere l'allarme di interruzione del sussulto morente
Piena compatibilità con OLT basato sul chipset ZTE.
applicazioni:
Servizi dati
Servizi vocali
Servizi video
Servizio di monitoraggio
FTTH / FTTB / FTTO / FTTP
Specifica di prestazione:
Technical items

Description

Optical property

Upstream PON interface

1 EPON interface, SC single-mode/single-fibre, symmetric 1.25 Gbps

Wavelength

Tx 1310nm, Rx 1490nm

Optical output power

-1~+4dBm

Receiving sensitivity

<-26dBm

Farthest distance

20km between OLT and ONU

Optical interface

SC/UPC connector

Downstream LAN interface

1*10/100/1000Mbps auto adaptive Ethernet interfaces, Full Duplex/Half Duplex, RJ45 connectors

Ethernet function

Support IEEE802.1Q VLAN

Support speed rate inhibition of broadcast packet at ONU

IEEE 802.3X flow control

Support 16 multicast addresses at each LAN port

Security strategy

Support AES-128,data encryption for both upstream and downstream

Support dynamic update of key

Management maintenance

Centralized OLT management based on OAM

WEB,CLI

Upgrade software remotely

Hardware information

Indicators

4 indicators, for status of power supply, PON port and 1 Giga-Ethernet port.

DC power supply

+12V, external AC-DC power adaptor

Chipset

ZTE chipset

Power switch

1

Power consumption

≤2.5W

Operating condition

Operating temp: -5~+55℃
Operating humidity:10~90%(non-condensed)

Storing condition

Storing temp: -30~+60℃
Storing humidity:10~90%(non-condensed)

Dimension

120mm*100mm*30mm(length*width*height)

Net weight

0.24Kg
soluzioni: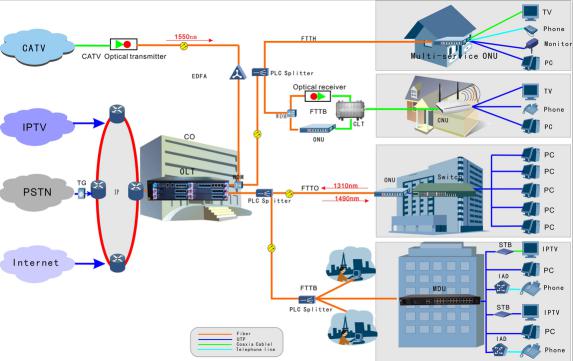 Elenco prodotti : Rete ottica passiva (serie PON) > GPON ONU / OLT