Switch Ethernet N-net gestito Gigabit
Lo switch gestito NT-MG1400 offre prestazioni di trasferimento di pacchetti wire-speed con fabric switch non bloccanti a 12 Gbps, tabella indirizzi MAC da 8k e controllo di flusso Full-Duplex 802,3x. Questo switch gigabit supporta il protocollo SNMP (Simple Network Management Protocol) standard e può essere monitorato tramite qualsiasi software di gestione basato su standard. ecc. Inoltre, il firmware include funzionalità avanzate come snooping IGMP, QoS (Quality of Service), controllo delle tempeste e della larghezza di banda, per migliorare l'utilizzo della larghezza di banda. Queste funzionalità offrono un modo economico di gestire il dispositivo da Internet ogni volta che si lavora o a casa.
Caratteristiche degli switch Ethernet gestiti Gigabit
Conforme a IEEE 802.3 10Base-T, IEEE 802.3u 100Base-TX, IEEE 802.3ab 1000Base-T,

Standard Ethernet IEEE 802.3z 1000Base-SX / LX

Il rilevamento Auto-MDI / MDI-X su ciascuna porta RJ-45 supporta il protocollo CSMA / CD

Previene la perdita di pacchetti con la contropressione (Half-Duplex) e il controllo del flusso PAUSE 802.3x (Full-Duplex)

Tabella indirizzi MAC 8K, apprendimento automatico degli indirizzi sorgente e invecchiamento

Switch fabric da 12 Gbps, architettura switch non bloccante

Il Jumbo Frame 9K supporta a tutte le velocità (10/100/1000 Mbps)

Supporta la funzione VLAN 802.1Q basata su porta e fino a 64 gruppi VLAN

Supporta il protocollo IEEE 802.1w Rapid-Spanning Tree (RSTP)

Link Aggregation supporta la modalità statica e LACP (IEEE 802.3ad) - fino a 4 gruppi di trunk, Ciascun trunk è massimo fino a 6 porte

Snooping IGMP per il filtro multicast, supporta v1 e v2

Supporta l'opzione DHCP 60 e l'opzione 82

Multicast e Broadcast Storm Control e Flooding Control

Supporto di Port Mirroring per il monitoraggio di porte dedicate

802.1X Controllo accesso porta-base, Autenticazione server RADIUS

L'indirizzo MAC statico assegna l'indirizzo MAC di destinazione alla porta specifca

Interfaccia di gestione Web remota

Aggiornamento del firmware tramite interfaccia Web

Tecnologia Cable Diagnostics

Supporta SNMPv1 con RFC-1213/1573-Interface group e RMON Group 1 (Statistics) SNMP Tr
Applicazione Switch Gigabit Ethernet gestita
Con le interfacce 1gigabit in fibra ottica, per realizzare una soluzione di rete di FTTH (Fiber to the Home) o FTTC (Fiber to the Curb) per ISP e FTTB (Fiber to the Building) per le imprese, le varie distanze della fibra ottica sono opzionali per i clienti. Per sicurezza e applicazioni, le 5 porte Gigabit possono essere configurate con le impostazioni VLAN e collegarsi a diverse unità, uffici, edifici, case e reparti. E NT-MG1500 è una vasta applicazione nel mercato europeo FTTH.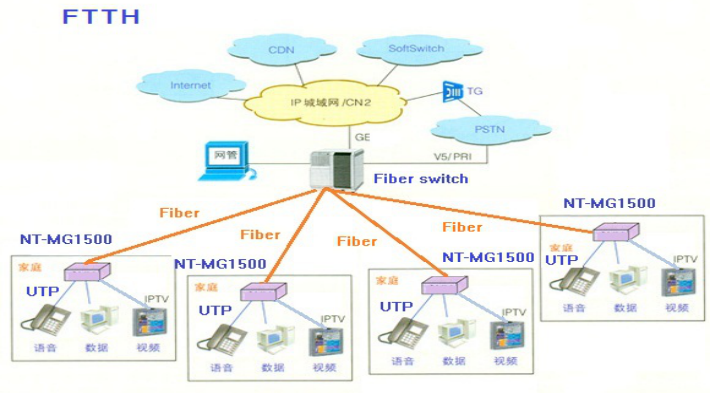 È simile a NT-MG1400
Pacchetto switch di rete 4 porte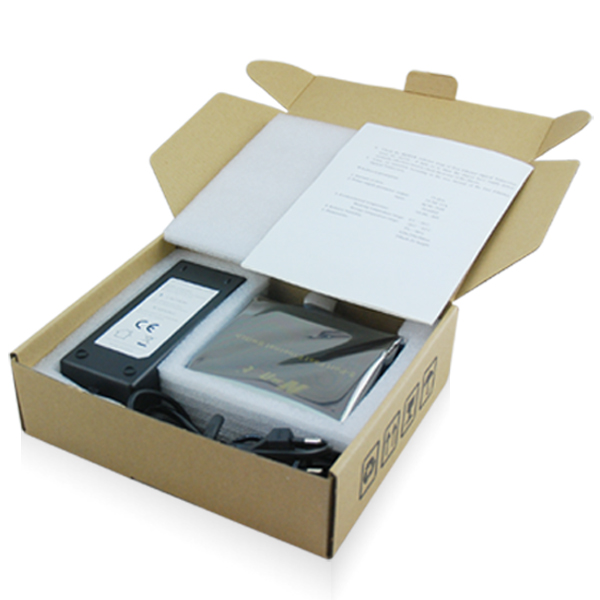 Elenco prodotti : Switch Ethernet > Switch Gigabit Ethernet